EMSCO, The Motor Control Shop The Motor Control Shop, inc.
---
Combo Starter
A COMBO starter is a starter in an enclosure that has a disconnect switch incorporated into the enclosure.
There are many options available with a combo starter. Below is pictured a common combo starter package.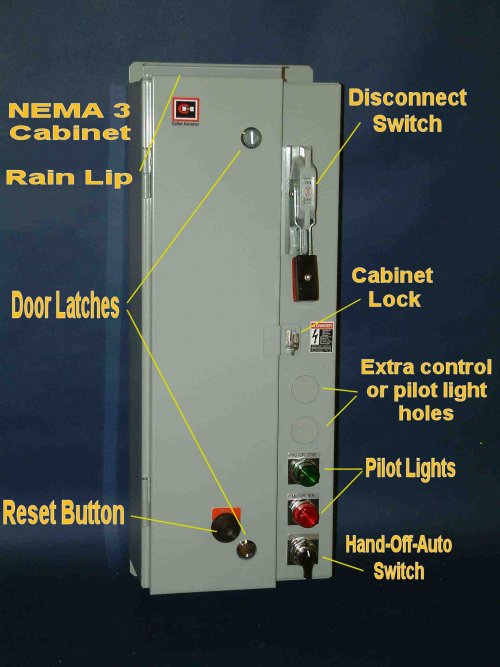 NEMA 3 Cabinet - NEMA 3 indicates a cabinet that is rain-tight. This type of cabinet is designed for outside installations or in locations that may be wet. It has a rain lip on the top edge and has an inner door seal to prevent moisture from entering the enclosure. Please review the FAQ section to further explain the various types and applications of the NEMA 1, NEMA 3, NEMA 4 and NEMA 12 enclosures.
Door latches - These latches are 1/4 turn latches designed to hold the door tightly closed.
Reset button - This button is provided for the user to be able to reset the overload protection device on the starter without opening the door. On a NEMA 3 enclosure, this button is protected by a heavy rubber cover.
Disconnect Switch - This switch is provided to control the internal mechanism that can disconnect the power source form the starter to provide a safe condition when working on the starter. This switch has a protective latch mechanism that prevents the door from being opened when the power is on and it also prevents the power from being turned on when the door is open.
Fused Disconnect - Disconnect switch that is attached to a fuse block, providing fused protection to the motor.
Non-Fused Disconnect - Disconnect switch only. (many Non-Fused Disconnect starters still have provisions to add fuse clips later)
Breaker Disconnect - Disconnect switch that is attached to a circuit breaker as opposed to a fuse block.
Cabinet lock - Swing latch drops to help secure the door. A hole is provided on the latch for a pad lock or other lock-out device.
Extra control or pilot light holes - Each starter comes with ample holes for pilot light and control devices. When not used, they are secured with a weatherproof plug.
Pilot Lights - Lights that are triggered by various functions of the starter indicating the current condition of the starter, power, motor or other device.
Hand-Off-Auto switch - Commonly referred to as an HOA switch. This control switch is for a device that may need to be turned on manually (hand) and also can be turned on via a remote (Energy management system, thermostat, flow switch) device or system. This is the typical location for the primary control switching operator. Others are possibilities are Start-Stop, Emergency Stop, High-Low.